Costa Rica is tucked between the magnificent shorelines of the Pacific and the Caribbean Ocean. With beautiful expansive shorelines, the beaches in Costa Rica are diverse offering exceptional and different personalities to delight visitors of every kind. Every beachgoer will find something interesting in Costa Rica.
Costa Rica is a beautiful white sand paradise aligned with palm trees, volcanic black sand and naturally rugged coves surrounded by tropical rainforest. From the luxurious beach resorts to unspoiled shorelines, there's a perfect beach setting to appeal everyone. But with so many choices, how will you choose the right one? Please take a look at the following best beaches in Costa Rica to make a right choice as your next beach haven:
Manuel Antonio Beach is one of the most well-known beach destinations in Costa Rica. This coastal haven is surrounded by Manuel Antonio National Park, a coastal rainforest teeming with wonderful wildlife species.
This beach takes around 30 minutes to hike from the park's entrance gate. If you are seeking for rainforest exploration, you should consider exploring the hiking trails leading to other beaches inside the park. No matter what, you are guaranteed to see wildlife especially the monkeys. Grab your snorkeling gear as the coral seascape is worth exploring.
Are you interested in surfing? You should visit Tamarindo Beach where the perfect right breaks strike off the coast. This is great for beginners in surfing and you shouldn't be intimidated by its surf town reputation. After a lively beach day, grab dinner in the most happening town of Tamarindo.
You can explore the neighboring white sand beach of Langosta. It's worth visiting, especially if you are looking to swim and escape the crowds of Tamarindo Beach.
The tiny seashells and white sand sprinkle the shoreline of Playa Conchal. A huge variety of coral and underwater discoveries can be made here in Playa Conchal. So bring your snorkeling gear.
To the north of Playa Conchal, Playa Flamingo sits in the Guanacaste region. This beach is famed for its pretty pinkish white sand. The sunsets overlooking the Pacific Ocean from Playa Flamingo are exceptionally magnificent in every aspect.
Playa Santa Teresa is famed for three things – beautiful beaches, great surfing delights, and Gisele Bundchen (that owns a villa in the hills above town). Located up-close to the spectacular tip of the Nicoya Peninsula, Playa Santa Teresa combines picturesque natural beauty with upscale backpacker vibe. It remains really difficult to get to; Santa Teresa is not overrun with sun and fun tourists that arrive en masse through budget package deals.
Instead, this rugged area appeals more adventurous travelers. Though it takes some effort to access to access Santa Teresa, the magnificent beaches are well-worth of it.
Located south of Puerto Viejo on the Caribbean coast, a narrow road twists through the jungle on its way to the Gandoca-Manzanillo Wildlife Refuge. Along the way, pass through great restaurants and eco-lodges.
Home to two splendid beaches separated by lush point known as Red Cliff, Punta Uva is one of the most enchanting destinations in Costa Rica. The pristine water, palm trees, golden sand, and monkeys – they are the beautiful delights that you shouldn't miss out.
Famed for its laidback attitude and amazing surf, Puerto Viejo beckons visitors to come and experience the eccentric side of Costa Rica. The cultural influences are the blend of Afro-Caribbean, Bribri Indian, Tico, and Hippyesque counterculture. Located around a mere 11 miles – around 18km from Cahuita, Puerto Viejo is well-accessible through Highway 36 or by walking south along the beach.
In Spanish, Hermosa means beautiful. It's an aptly named gray sand beach that perches between two mountains. In fact, there are two Playa Hermosas; the first one is in the Central Pacific Coast near Jaco and the Guanacaste's Playa Hermosa is located between Playa del Coco and Playa Panama. Hermosa is seldom as crowded as its neighbors and is a fantastic getaway for those seeking for quality relaxation.
Located a short drive away from the famous Manuel Antonio National Park, Playa Dominical is a surfers paradise. There is a huge availability of surf camps and shops over there. The lush green landscape and jungle-lined mountains make Playa Dominical unique in every aspect.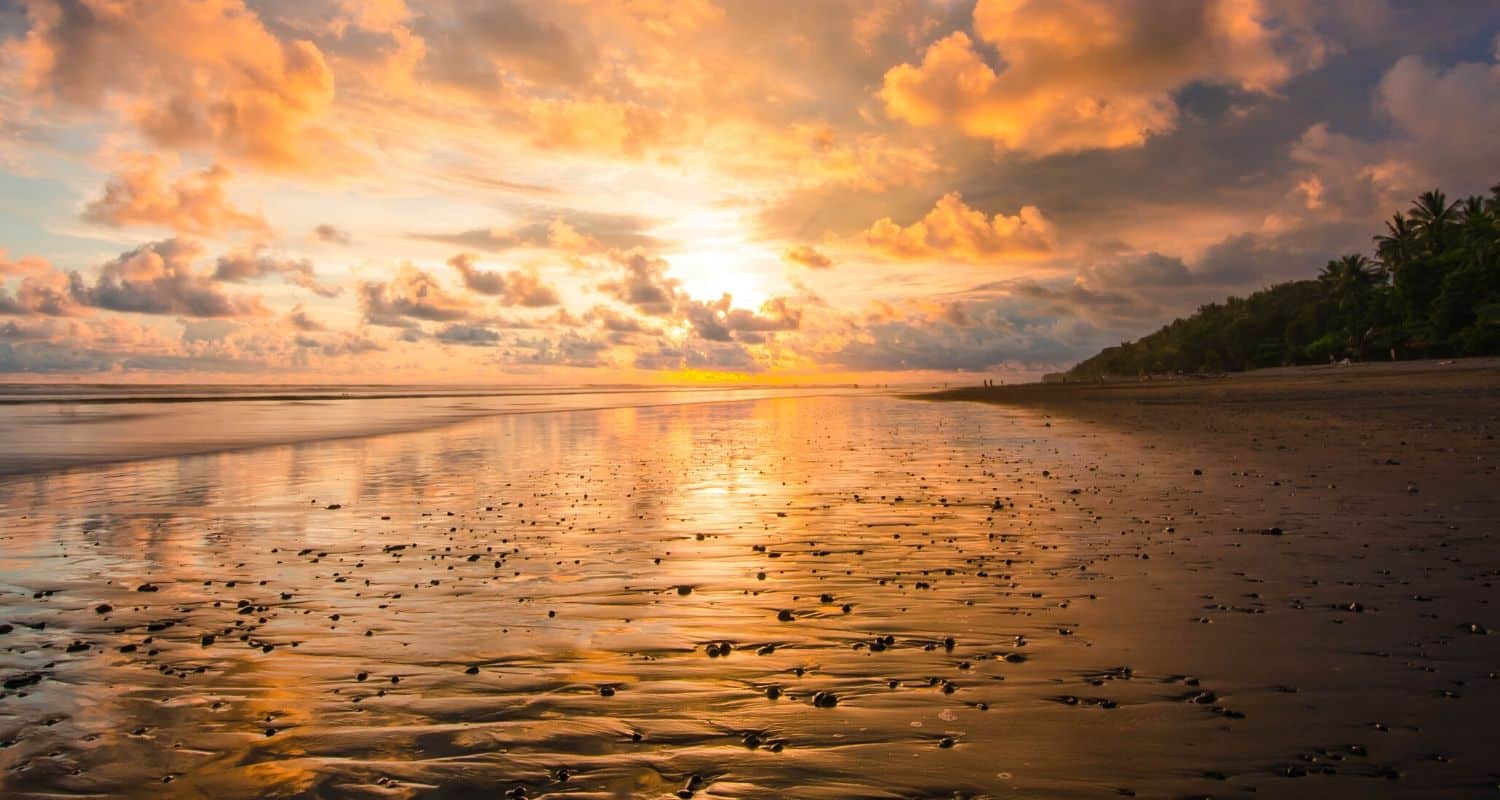 Situated in the center of the Pacific coast in Costa Rica, Jaco Beach is a perfect haven for both surfers and beach lovers. The town of Jaco is located just a two hour drive from San Jose and offers vibrant nightlife, a couple of casinos, and different international dining options.
The beach itself is perfect for surfers; but you don't see any families with children there due to huge year-round waves. Everyone who loves water sports, eating, nightlife and surfing will find Jaco Beach and Jaco town a perfect delight for a memorable summer getaway.
Final Consideration –
Do you want to explore the best beaches in Costa Rica? Let Tour Operators CR help you discover the beach delights that Costa Rica has on offer. Please stay in touch with us on Facebook and Instagram social media networks!