This destination is very popular among tourists because of its modern development, as well as paved roads, but don't worry, it is not a city with too many people or businesses. There are many activities for everybody's taste, that the visitor might not have the time to try them all.
Tamarindo is a wonderland of adventure and has the serenity of a tropical paradise. This is a destination for anyone who is traveling to Costa Rica, honeymooners, families, friends and more.
Water is obviously the main characteristic of many coastal towns of Costa Rica, and Tamarindo undoubtedly occupies a good place. Whether you're looking to swim, to freshen up, or enjoy various adventures, there is always something for sea lovers. Those who want to immerse themselves in the water can go to the beach with a towel and get ready for a day full of fun.hose who are more adventurous can rent a diving equipment and spend the day exploring what's below the surface of the water. Costa Rica is known for its varied animal life, so be prepared to see some amazing creatures!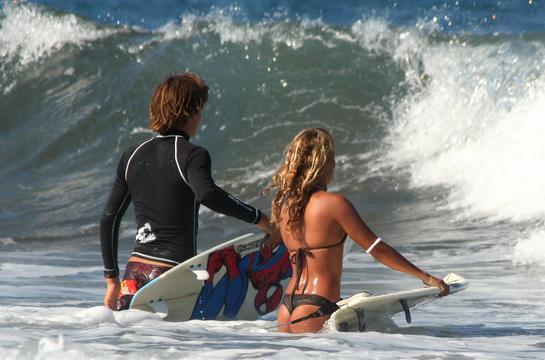 If you don't want to be too active under water, activities such as surfing, kayaking, and sailing are the activities for you. Surfing is very popular in Tamarindo, whether you want to practice it or just watch the surfers from the beach. This area is a good place for newbies surfers since the waves and the wind are known to be quiet, and even those who have a little of experience will be capable to surf very easily. If you do not have the necessary experience, you can always register for some surfing lessons. Tamarindo is an unforgettable place to learn the basics of the surfing. If you are more experienced, you can enrol to personal tour of surfing.
There is a variety of walking tours, sailing and kayaking tours available to all .The visitors of Tamarindo have the option of large amount of outdoors activities, such as hiking, horsebackriding, bike riding, rafting, golf and many more.
One of the most popular outdoor experiences in Tamarindo is the Marino Las Baulas national park. Costa Rica is a country that believes in the preservation of the natural beauty of the land and the protection of animals in danger of extinction. This National Park does precisely that.
The park is a protected area that serves as a sanctuary for the population of sea turtles. These magnificent creatures use this area as a place for nesting without fear of being captured or to be robbed of their eggs. The visitor can also see many other animals includes 150 bird species.
After an exciting day exploring Tamarindo, you may be tempted to see the beautiful sunset. But the fun doesn't end in Tamarindo! There is a variety of bars and nightclubs open so you can have a drink and dance on the dance floor.
Tamarindo offers the best activities in one place. It is definitely a place one should not miss.