These waterfalls are part of Costa Rican best attractions. Located 10 kilometres from the Domincal beach in a canyon approximately eight meters wide.There are two waterfalls one is 45 meters high and the other is 20 metres high with a natural swimming pool of 6 meters deep.
Nauyaca waterfalls is the ideal place for nature and adventure lovers, where the visitors can walk, swim, climb, jump and take pictures.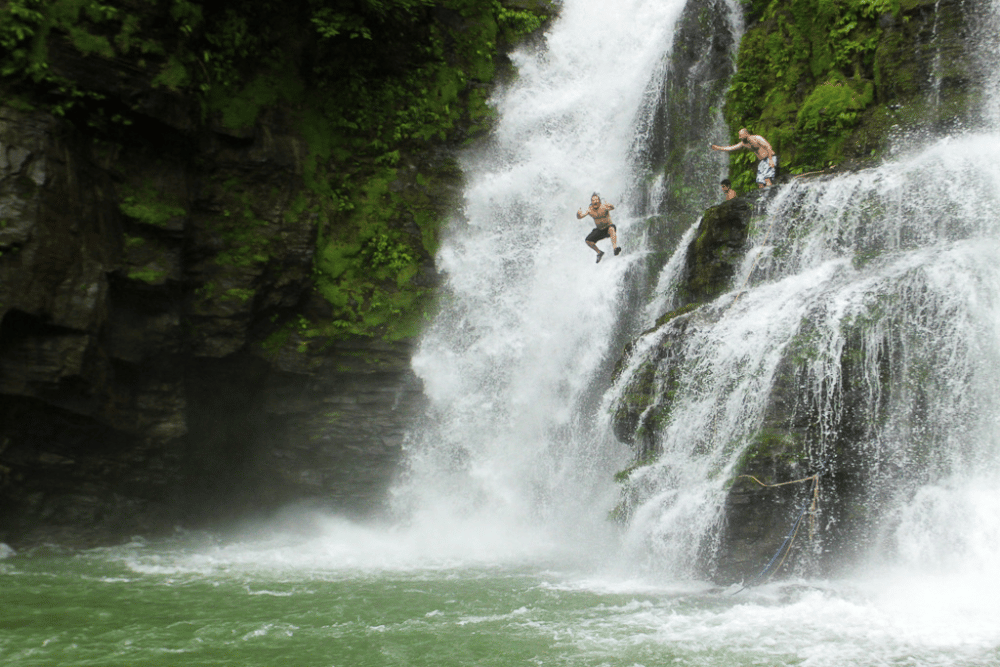 The Nauyaca waterfalls are towering and impressive. They are surrounded by a magnificent vegetation and several natural pools of crystalline water. It is the perfect place to find tranquility and relaxation or adventure and excitement.
The Nauyaca waterfalls are known as an ideal place for adventure and ecotourism, because of their natural beauty, but also by the variety of activities they offer, such as: swimming, jumping ( of the falls) , mountaineering, excursions hiking in a tropical forest, riding, ect.
Being in Nauyaca waterfalls means being one with nature through trails and roads, observing the tropical forest, listening to the sound of the water, seeing its a breathtaking greenery and flowers, animals, birds, reptiles. The colors and sounds of the nature will make you return home relaxed and at peace.
For the lovers of nature, the Nauyaca waterfalls are ideal, as the commitment to the conservation and protection of the environment is the main objective.In the Nahualt language, Nauyaca is the name of a snake that lives in the region of Mesoamerica. It is highly poisonous and is different from the rest because it has a top lip cleft and it makes seem a reptile with four nostrils.