Taking a family vacation anywhere around the world often includes a trip to an overcrowded theme park or the beach. But, it's the perfect time shake up things and choose something unique for family-friendly adventures. Why don't you choose Costa Rica family vacations on this holiday!
Choosing Family Vacations in Costa Rica 
If you've never considered Costa Rica for your family getaway, please remember that it's a tropical paradise blessed with tons of sightseeing attractions for both adults and kids. No matter whether you are seeking for a destination with optimal wildlife encounters, thrilling activities or adventurous explorations, you will find everything in Costa Rica.
Costa Rica is one of the safest and family-friendly destinations to explore in Central America. With a never-ending list of breathtaking, exciting and thrilling things to do and see, a Costa Africa vacation will be the one your family will never forget and most probably the one they will love to keep coming back again and again.
Canopy Tours 
A canopy tour is a popular activity to enjoy with family. It's no wonder why as they will have the opportunity to experience a true adventure – just like the one pictured in the latest Jungle Book film.
No matter, canopy tour adventures will make both kids and adults feel like floating through the jungle while allowing them to stay connected with Costa Rica flora and fauna gathering in trees.
Wildlife Tours 
An indisputable truth about kids is that they love nature and animals more. Embarking on wildlife tours, watching animals up-close will enchant your kids and let them feel like true explorers. Taking a vacation to explore wildlife in Costa Rica can also show them a great diversity of flora and fauna that Costa Rica boasts.
River Rafting Tours 
If your family has kids older than 6 years old child, you can try out an exceptional adrenaline experience – river rafting adventure. From Class I to Class IV rapids, the picturesque land can offer you the wonderful experience for any type of adrenaline junkie from around the world.
Volcano Tours 
If you want your family to experience they will treasure forever, then volcano tours are the perfect pick. Volcanoes are the gigantic earth monuments astonishing even the most skeptical teenagers and will mark their minds and hearts with an image they will never forget throughout their life.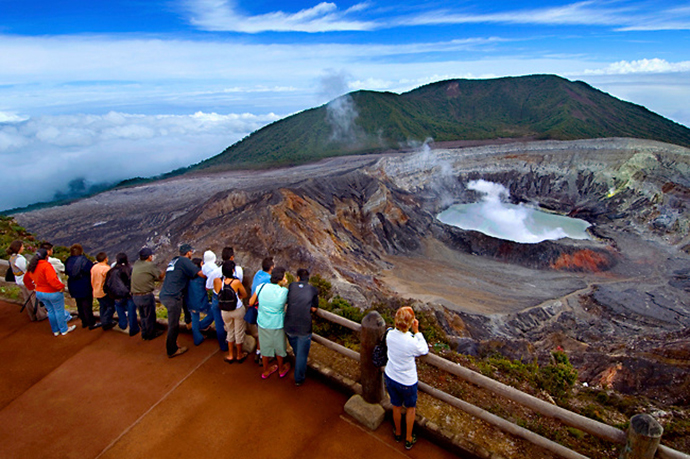 Turtle Watching Tours 
If you are seeking for a once-in-a-lifetime experience on Costa Rica family vacations, turtle watching tours should be on the top of the list. Moreover, Costa Rica stands out as the home to a plenty of nesting beaches for four varieties of turtle species, including endangered leatherbacks. It's highly suggested to you should head straight to Tortuguero – a 35 kilometers stretch of protected natural habitat – safe and peaceful haven as well as a favorite nesting spot for turtles.
Final Consideration
Are you ready for your family getaway in Costa Rica? Check out available deals for Costa Rica family vacations at Tour Operators CR and indulge yourself in the alluring sightings of Costa Rica with family. So, why are you waiting for! Just embark on a Costa Rica tours to explore your adventurous side to experience one of the most bio-diverse ecosystems on the planet!
For more details and updates on Costa Rica family vacations, please make a visit to our website at https://tours.co.cr/ and feel free to stay connected with us on Facebook and Instagram social networks!