Costa Rica is a great option to visit when we talk about traveling to Central America, it not only has beautiful national parks and beaches that make any tourist who is lucky enough to visit them fall in love, but also has a gastronomy capable of delighting the palate of their own and strangers, and it is that when touring in a country, not only the places we visit matter, but also the dishes that we can enjoy in the place we visit, for that reason here we tell you about 5 dishes you need to try if you visit Costa Rica.
Costa Rica Gastronomy
The dishes that will be at your disposal in Costa Rica are delicious, not only do they have the best elements of Latin American food in general, but they also have the particularity of being very healthy, since many of their typical dishes feature fruits and vegetables, as well that not only will you be eating something delicious, but at the same time you will be taking care of your health. If you are going to visit the country Costa Rica soon, be sure to try some of these dishes:
1) Casado
Casado is one of the most characteristic dishes of the gastronomy of Costa Rica, this dish has rice, beans, fried plantains and a salad of cabbage and carrots, in addition it also has a type of meat that usually varies between chicken, fish, pork or beef; It should be noted that although these are the main ingredients, depending on the cook, the dish can be served with extra ingredients such as french fries or additional vegetables or pasta.
The Casado is one of the most representative dishes in Costa Rica, so regardless of the region of the country you decide to visit, chances are that among the menus of any restaurant you will find this magnificent dish, so there is no excuse for not try it.
2) Gallo Pinto
Gallo Pinto is a dish with a long history, it is a dish that is not only seen in Costa Rica but in many Latin American countries, although with considerable variations. This delicious dish is usually served during Breakfast in the Central American country, although anyone can enjoy it at any time. Its main ingredients are rice and beans mixed together; In addition to these two ingredients, minced meat is also usually on the plate next to the chili to season it. Depending on the region where it is found, the preparation of the Gallo pinto can vary slightly, and may also include fried plantains and fried eggs in some of its presentations.
3) Olla de carne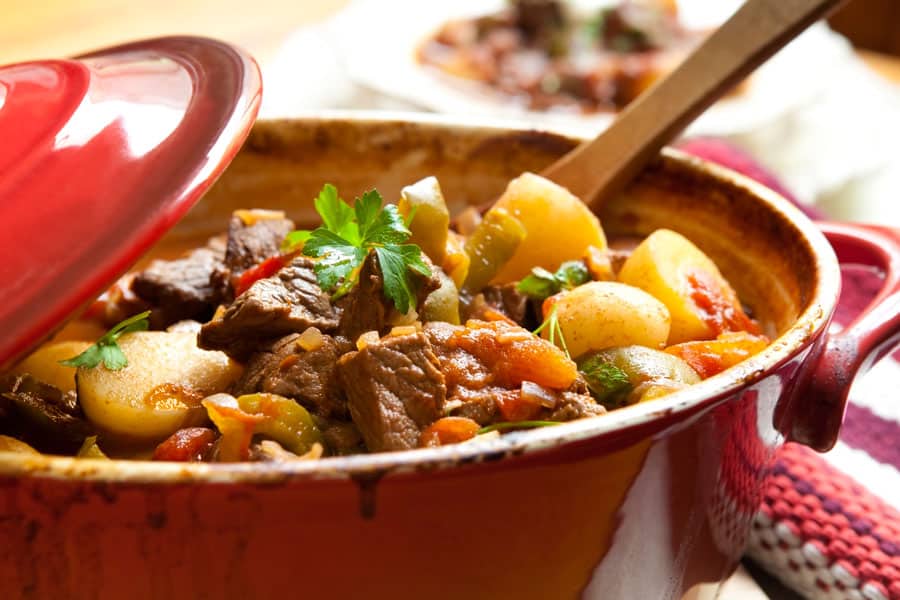 If you are going to visit Costa Rica, most likely you want to go to one or more of its spectacular beaches, after all it is one of its main attractions, for that reason you should know the Olla de carne, a dish that comes in handy for lunch on a day at the beach. It is a traditional stew from the country, which has broth in which there are pieces of meat and many vegetables, so finding carrots and cassava in it is common. In addition to this, you can also add bananas and sweet potatoes to get an extra flavor. As a curiosity of the dish, the Olla de carne is mentioned in the famous Spanish book "The Ingenious Gentleman Don Quixote of La Mancha".
4) Tamal
Surely you have heard about tamales, they are a very popular dish in different regions of Central and South America, and in Costa Rica you can find some delicious presentations of them. If you are not yet familiar with the dish, the taste of it will surely surprise you pleasantly; the tamale is generally prepared from corn flour, although in Costa Rica this flour also includes saffron rice and plantain masses.
The tamales of Costa Rica are stuffed with pork or other meats, chiles, carrots, eggs, fruits and vegetables, although it can also have other ingredients; In addition, they are boiled in banana leaves and are especially popular at Christmas time. Without a doubt it is a dish that you must try if you are doing tourism in Costa Rica.5)
5) Chifrijo
If you plan to visit bars during your visit to the country, surely you will come across Chifrijo, one of the contemporary dishes you can find in Costa Rica, it has been present in the country since the 90s, where it was created in the capital of the country, San José. This is a dish that you can easily find in many bars, and its flavor will surely please you. The Chifrijo is made up of beans, pork rinds, rice, tomato, cucumber, garlic, onion, lemon juice and "doraditas" (fried corn tortillas). In addition, there are those who add avocado to the plate.
6) Ceviche
Ceviche was originally created in Peru, however, many other countries in South and Central America have borrowed and made variations of the dish, further enriching the traditional Peruvian creation. The preparation of ceviche from Costa Rica is low in calories and very rich, especially for seafood lovers. Ceviche in Costa Rica is usually made from corvina, although it can also be made with marlin or tilapia and is complemented by lemon. Chili, onion and salt. In addition to these ingredients, the dish is often served with crackers on the side.
Having fun as a tourist is something that we all love to do, but we cannot forget that part of the trip is the food that we will enjoy during it, so when it comes to setting foot in a country that we do not know, knowing what to eat it is almost as important as knowing which places to visit.
Now that you know what the best dishes in Costa Rica are, it only remains to enjoy them during your visit to the country, just as your body will feel good after bathing in the beautiful beaches, your palate will appreciate having tried these delicious dishes.